If your car's tire looks too dull, you need to paint it. Glossy black is one of the standard colors to paint over the rims. You can do it yourself if you have the right tools. So, how to paint car rims gloss black?
Arrange necessary tools and materials like spray, nozzles, paint color, sandpaper, sanding machine, etc. Then detach the tires from your car and wash them properly with detergents.
Use sandpapers to clean the dirty upper part of the rims. You can also use a sanding machine for that. Then, cover the tires with paper and spray light coating and gradually medium light and finally the color coatings.
You can also paint rims gloss black while the tires are still on. However, in that case, you would need a hand spray.
Painting Car Rims Gloss Black
You don't need to take your car to repair shops to paint gloss black on the car's rims. The process is pretty simple but will take a while. All you need is the proper tools, colors, and an easy method to follow.
Don't worry because we will describe the easiest method to color your rims.
Tools and Materials Required
First of all, you will need jack stands to keep the car up and bolt removal to detach the tires. Keep some sandpapers with different grits and steel wool to polish the rims. Soap water or detergent to wash the edges.
You will also need a clear coat and gloss auto paint, paint thinner, rags, paint sprayer, self-etching primer, painter's tape, stop rust stain, and some index cards.
Step By Step Method
When you have gathered all the tools, it's time to get back to business. However, you have to follow every step carefully, or else the paintwork will be good.
Step 1: Tire Removal
First of all, you need to remove the tires from your car. Therefore, use the jump stands to lift the vehicle.
If the car is in your garage, you will need several stands. However, if there are any other methods of car lifting, you can also use them.
Step 2: Wash the Rims and Tires
Before putting the paint over the rims, you need to clean the edges to get rid of the dirt. Soap water or detergent would be appropriate in cleaning. You can use an 80:20 ratio of dish soap to clean the grease from the rims.
The detergents would do the same. However, there are some special reagents to clean the grease from rims. You can also use some of those.
Step 3: Time for Sanding
After washing the rims, you can't wait to dry or clean the wet surface with a rag. Then scuff the rim surface a bit with steel wool.
There are several types of sandpapers. But it would be best to use 800-1000 grits of wet sandpaper. So, use the sandpaper and rub it over the rims.
It will remove the previous clear coatings from the rims. You can also use sandpaper with soapy water to do the job quickly. So, the purpose of making the rim surface rough will be served.
Step 4: Wash With Water
After you have done with the sandpaper, there will be some residue over the rims. So, hose off the residues with water and make sure no corner is spared.
Use a sponge to get rid of harsh residues. Then, keep the wheels in sunlight to dry naturally. But make sure there's no water left, or else your paintwork will be ruined.
Step 5: Make Shades
Get the wheels from sunlight and give a bump to remove any remaining water. Now lay the wheels over some shade like an old newspaper, canvas, or unusable sheets if you don't want a mess of paintwork in your garage.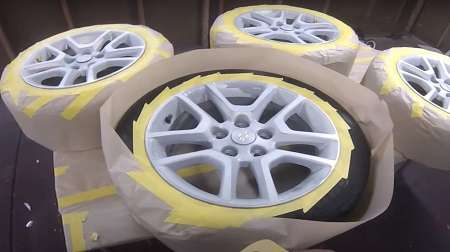 Cover the tires with paper so that only the rims stay exposed. It would be best to use the painters' tape to cover the valve system. Use the index cards between the rims and the wheels for extra protection from overspray.
Step 6: The Primer Stage
Sand the primer if you want to have a stunning glossy look on your rims. You have to use the sandpapers of 1000 grits and repeat this step a couple of times to get the shiny look. 
Step 7: Start With the Light Coat
Place the wheels 2 feet away from each other for ease of work. Keep the nozzle at least 12 inches away from the sweeping motion. Start with the light coating from the left and move around to the right to get all the angles.
It's better to paint slowly to look even on the rims. Wait for 10 minutes and repeat the step for another light coat.
Step 8: Medium Light Coat
After drying the light coat, the rims may look black. Then, you have to start spraying the medium-light coating. Wait for 10 minutes and repeat the step two times. After that, spread the color and wait for 20 minutes.
And then again the medium coating two times with a 20 minutes interval. Let it dry on its own overnight. The next day, your glossy black rims are here!
How to Paint Rims Gloss Black with Tires On?
You can even paint rims gloss black with the tires on. However, the method would be different because there are chances of splitting paint on your car. That's why you have to hand spray paint instead of high-speed nozzles.
Here are the steps to follow:
Step 1: Cover your tires with index cards and newspapers. Make sure there are exposed areas while spraying paint.
Step 2: Use painting tape to cover the valve system and reels.
Step 3: Start with a light dusting with 50% transparency. Keep the sprayer 5 to 6 inches away from the spraying surface for better texture.
Step 4: Pay attention to every narrow corner with different angles between the reels, or else someplace may leave without paint.
Step 5: Spray two light-coated and two primary black coats for glossy results.
Things to Know When Painting Rims With Gloss Black
It would help if you considered or were careful of a few things while painting rims with gloss black. Here are a few:
Never forget to cover the valve system with painting tapes.
Don't spray too closely or in a far distance; otherwise, paint won't stay even.
Always wait a couple of extra minutes than necessary to give enough time for drying the coatings.
The paint job needs patience. So, don't be hasty in any step.
Use the best quality coating and paints.
How Much Does Painting Rims With Gloss Black Cost?
If you are going to paint your rim on your own, it won't be costly. Professional completion of rim paint may cost you about $500 to $1000.
On the other hand, DIY rim painting will cost you around $200. The price may exceed up to $300, not more. So, it's up to you whether you give it to a professional or do it by yourself.
Conclusion
Painting your wheel's rims is not as hard as you think. All you need is just a proper guideline. You can be utterly creative with your work when you know how to paint car rims gloss black properly.
It even costs you less than a professional job, and you can do it at home. It may even last for years if the paintwork is good and continue accenting your ride. So, best of luck with your DIY project painting on car rims!
Related Posts
How To Remove Glue From Car Rims Without Leaving Any Trace
Can You Wax Painted Wheels | Here Is A Quick Guide
How To Convert Split Rims To Regular Rims | A Comprehensive Guideline
How To Fix Curb Rash on Black Rims | Explained
Is Spray Painting Rims A Good Idea : Why Is It So Popular?