While you could use any soap for washing the car, some products could end up damaging your vehicle's paintwork. This is because they contain harsh compounds like sulfates and phosphates, which are also not environmentally friendly.
But if you were to use the best biodegradable car wash soap, you wouldn't have to worry about anything. This is because the soap is designed to be gentle on your car but tough on dirt. As such, it is also safe for the environment.
Now you are probably wondering, how do biodegradable car wash detergents work? And do they offer any advantages compared to using your regular car wash shampoo? If yes, how do I know which products are the best?
Well, we've come up with a list of our top favorite contenders along with a comprehensive buying guide to help you.
What Is Biodegradable Car Wash Soap
Biodegradable car wash soap is a type of biodegradable cleaning product that's specifically formulated to use on vehicles. It's often called "eco-friendly" or "green" car wash soap because it's made from all-natural ingredients that won't harm the environment when you wash your car.
Now a days, many people prefer to use biodegradable car wash soaps because they contain fewer chemicals that could potentially damage the environment. They also tend to be less expensive than traditional car wash products, which can help you save money over time.
Are Biodegradable Car Wash Soaps Ecofriendly
The answer to this question is yes, biodegradable car wash soaps are ecofriendly.
As the name suggests, biodegradable car wash soaps are made with natural ingredients and do not contain harmful chemicals that can pollute the environment. So, you can use them without any worries regarding their impact on the environment.
If you want to find out whether or not a product is eco-friendly, there are certain characteristics that you can look for in order to make sure it's safe to use on your vehicle. For example:
A product containing natural ingredients such as coconut oil, palm oil or vegetable oils.
A product made with 100% plant-based ingredients (no animal products)
These soaps don't contain hydroxide or sulfates
Why You Should Rely On our Reviews
At AutoGuideHub, we're on a mission to provide you with the best automotive care products and accessories. We do this by conducting thorough research, testing products in our own vehicles and providing honest reviews based on our experience with each product.
AutoGuideHub aims to deliver reliable, up-to-date information on products and services. When our experts recommend something, it's because we think it's the best of its kind.
How We Selected The Top 10 Best Biodegradable Car Wash Soap Out Of Many
Initially, we chose 15 soaps that claim to be Biodegradable to identify the top 10 Best Biodegradable Car Wash Soaps. We didn't just rely on the manufacturer's claim; we also considered brands, user reviews, product specs, and other features while picking them for testing.
Our product review team washed a dirty grey color BMW 428i with each soap after the vehicle was driven 300km before each rinse. While washing the car, we followed the instructions given by each soap manufacturer.
After testing all 15 products, we compiled our findings into an easy-to-read chart that rates each one on five different criteria: foaming capabilities, the strength of scent, concentration of soap to water ratio (how much soap does it take to wash your car?), ease of use and overall effectiveness. We found that all of these products are capable of cleaning your vehicle effectively, but some stand out as better choices than others based on their performance and price. Here are our top 10 picks:
1. Chemical Guys CWS_301 Car Wash Soap – Editor's Choice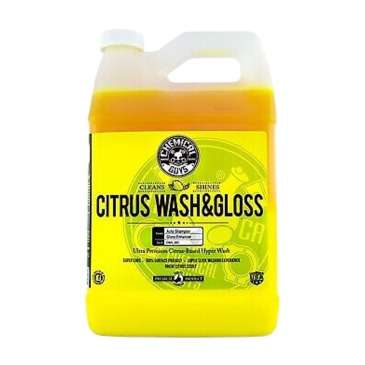 Highlighted Features
Made from naturally-derived and fast penetrating citrus extracts
Creates ultra-thick foaming suds to reduce swirl marks and scratches
Contains unique gloss enhancing agents for a streak-free glossy finish
5 gallons of water dilutes one capful of the detergent
Works with bucket washes, foam guns, or foam cannons
Our overall best eco friendly car wash soap comes from Chemical Guys. The soap is formulated from naturally-derived citrus extracts designed to break down the toughest dirt and grime from paintwork.
Featuring ultra-high foaming characteristics, the soap works by creating luscious foaming suds. The best part about the foam is that it tends to penetrate even the tiny hard-to-reach surfaces of your car.
Also worth mentioning is that this is a highly concentrated product. You just measure a capful of the soap and add it to 5 gallons of water for dilution. So, you will be sure to get dozens of washes out of it.
Pros
Restores your car's waxed look
Produces lots of foamy suds
Hyper-concentrated formula
Easily removes even the toughest dirt
Protects paintwork against swirls and scratches
Cons
Comes in a cheaply made bottle that might leak
It's not clear whether it is pH balanced or not
2. Meguiar'S G7164 Gold Class Car Wash Shampoo – Budget Pick
Highlighted Features
Formulated with ultra-rich conditioners for a radiant shine
Highly concentrated for long-lasting results
Washes and conditions the car in one step
Safe on all types of car paints and clear coats
Creates rich suds to wash away the toughest dirt
Next up, we bring you this biodegradable shampoo for car formulated for washing and conditioning paint. Featuring a rich foaming action, you can use it to gently wash away tough road grime and dirt without stripping away your vehicle's protective wax.
Additionally, this product is made of a blend of conditioners and premium ingredients such as surfactants. Therefore, after every wash, your car will always be left with a radiant shine.
Even better, the shampoo is highly concentrated and easy to use in a foam cannon or a bucket. You just dilute 4 capfuls or one ounce of the soap with a gallon of water.
Pros
Easily foams away tough dirt without removing wax
Very concentrated so you just use a little
Rinses without leaving streaks or swirls
Safe on all paint types
Washes and conditions your car at the same time
Cons
There are a few complaints about the soap leaking
It's not fragrance-free hence not ideal for scent-sensitive individuals
3. Wash Chems Pro 50 Touchless Car Wash Detergent Soap – Best Commercial Grade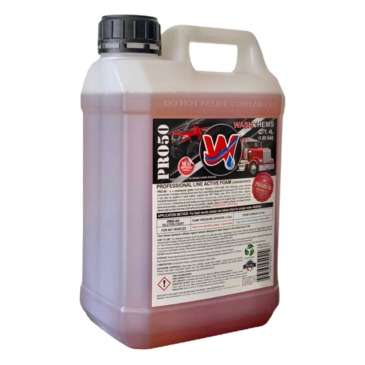 Highlighted Features
Produces dense active foam for efficient cleaning
Formulated for brushless, touch-free car wash
Made with active alkaline concentrate TFR that emulsifies any type of dirt
Commercial-grade cleaner for cleaning almost everything
Highly-concentrated so one ounce of the soap dilutes with 2 ounces of water
For the best commercial-grade all purpose cleaner, this product won't disappoint you. You can use it to wash cars, engines, ATVs, trucks, dirt bikes, upholstery, carpets, and more.
When it comes to formulation, this product contains active alkaline concentrate and TFR (Traffic Film Remover). The TFR helps in cleaning road grime without damaging your vehicle's paintwork.
Being a touchless detergent, the formula is easy to use. You just apply it to your dry car and then rinse it after 2-3 minutes. It is also quite concentrated because you can wash up to 20 trucks with just one gallon of the soap.
Pros
Safe for cleaning ceramic-coated and wrapped vehicles
Perfect for interior and exterior detailing
Provides your car with a protective film
One gallon can clean up to 20 trucks
Allows for a brushless and touch-free car wash
Cons
Pricey but worth every coin
You might need to mix it a little stronger to clean tough dirt
4. Adam's Car Wash Shampoo – pH Best Car Wash Soap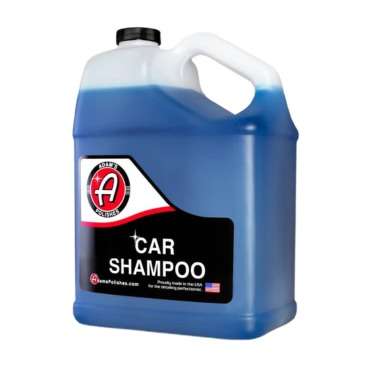 Highlighted Features
pH neutral making it gentle on all car surfaces
Uses cutting-edge formulations for effectively cleaning all kinds of dirt
Works with any foam cannon, foam gun, or wash bucket
Produces a thick layer of suds for superior cleaning results
Equipped with a pleasing wild berry fragrance
This is yet another excellent non-toxic car wash soap that you will be sure to love since it is pH neutral. Therefore, you can use it to clean different surfaces of your car, including plastics, rubber, and windows.
In terms of ingredient formulation, the shampoo is made of a blend of advanced polymers, surfactants, lubricants, and cleaners. As such, you will find it very effective at cleaning dirt and other contaminants.
Being a concentrated formula, this soap tends to produce tons of thick foam for a deep cleaning washing experience. And because of its concentration, you just need to add a few ounces of the shampoo to your 5-gallon bucket of water to dilute it.
Pros
Ideal for weekly car maintenance washing
Can be used on all vehicle surfaces
Gives your car a nice glossy shine
Can be used in sunlight and won't leave any streaks
Comes in a durable plastic bottle that is hard to break
Cons
It is not available in a scent-free version
A little pricey
5. 3D Wash N Wax Car Wash Soap
Highlighted Features
Formulated with wax compounds for enhanced protection and shine
pH balanced making it safe for use on all car paints
High and thick foaming suds for ease of removing any dirt
1-2 ounces of the soap dilute with a one-gallon bucket of water
Rinses away easily without scratching or stripping wax coatings
Here is yet another pH-balanced natural car wash soap that you might want to consider. The soap boasts wax components to provide your vehicle's paintwork with extra protection and a high gloss shine.
Like most soaps in this review, this product is also highly concentrated with high foam suds. The suds make it easy to clean all the dirt, grime, and road film on your car.
In terms of application, the shampoo is easy to use with a foam cannon or water bucket. You just add 1-2 ounces of the soap to your bucket full of water or foam cannon since it is very concentrated.
Pros
Offers an extra layer of protection
Creates thick foam for better cleaning results
Does not dull your car's finish or strip its wax
Requires little water to rinse it off
Excellent quality for the price
Cons
Some users reported to have received the soap leaking
It is not available in a scent-free version
6. Dr. Beasley's MP10D12 Premium Matte Car Wash Soap
Highlighted Features
High foaming suds easily lift contaminants of your car's surface
pH balanced to protect your vehicle's paintwork
Compatible with satin and gloss car finishes plus matte wraps
Formulated with active surfactants and no harsh chemicals
2 generous capfuls of soap dilute with one gallon of water
For washing your matte finished car, this is the best natural car wash soap available on the market. The soap is made from active surfactants that help pull and lift out any dirt for more effective cleaning.
The best part about this product is that it is pH balanced. So, it won't alter the appearance of your car's paint or strip away the paint.
Another thing you will love about this soap is its excellent concentration. This means that you won't need to use much soap in every wash. You just use 2 capfuls per gallon of water.
Pros
Does not alter or damage your paint's look
Perfect for matte, satin, and gloss paint surfaces
Does not leave residue spots after rinsing
Long-lasting because of its high concentration
Produces lots of suds
Cons
Each bottle contains only 12 fl. oz making it a little bit pricey
Cannot be used on all types of car surfaces
7. Charlie's Professional Biodegradable All-Purpose Cleaner
Highlighted Features
Cleans almost all surfaces, including furniture and engines
Gently cleans grease and grime without harsh dyes, phosphates, or abrasives
Fragrance-free and non-toxic
Dilutes in the ratio of 10 parts for the water is to one-part for the soap
Heavy degreasing capabilities for effective cleaning
Looking for the best all purpose cleaner? If yes, this product is worth your money. Besides using it to clean your car, you can also use it on bikes, pets, engines, grills, driveways, hands, and more.
You will also love that it is formulated with all-natural mild surfactants and washing soda. So, it does not contain solvents, phosphates, caustics, or phenols, which makes it safe for your car and the environment.
In addition, it comes concentrated so it can serve for quite some time. You just dilute a part (1 ounce) of the soap with 10 parts (10 ounces) of water. However, this is a low foaming product.
Pros
Cleans a variety of surfaces like cars, floors, and machinery
No special safety gear is needed
Does not have any fragrances or scents
Cleans without harsh abrasives like dyes, phosphate, and perfume
Rinses clean without leaving any residue behind
Cons
It is not advertised as pH balanced
Does not produced lots of suds like some of its competitors
8. Meguiar's Gold Class Car Wash Shampoo & Conditioner
Highlighted Features
Cleans and conditions in just one step for a streak-free shine
Creates thick suds for safe and gentle removal of dirt and road grime
Made with all-natural ingredients and mild surfactants
Safe for use on all paint types, including a clear coat and polished
Leaves your vehicle's wax protection intact
Here is another epic shampoo that is a favorite with both car owners and professional detailers. It contains conditioners to help you efficiently clear away debris on your car, thereby giving it a radiant look.
And when it comes to tough dirt and other contaminants, the formula provides you with rich suds. So, you will be able to clean any dirt without stripping your vehicle's wax protection.
The best part about the product is that it is concentrated to ensure it lasts quite a while. Therefore, you just need to use only a couple of capfuls in every gallon of water.
Pros
Will not strip away wax protection coating
Cuts easily through grime for the best results
Offers rich and thick suds
Can safely be used on all paint types
Conditions your car for a radiant shine
Cons
Quantity per bottle is not much so it may not last for very long
May not be ideal for individuals that are scent-sensitive
9. Chemical Guys CWS_402 Mr. Pink Foaming Car Wash Soap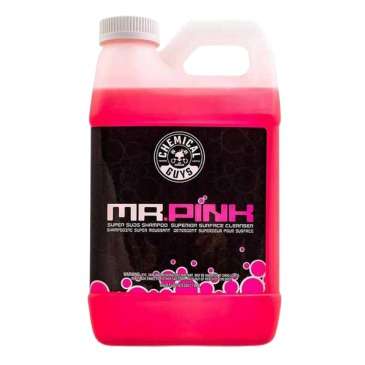 Highlighted Features
pH balanced making it safe for sealant and wax coats
Formulated with a blend of non-toxic surfactants and polymers
Uses advanced foaming technology to remove dirt build-up
Rinses clean with no residues or water spots
Requires 5 gallons of water to dilute one ounce of this soap
If you are looking for affordable car wash soap, this product is an excellent choice. You can use it to clean your vehicle's wheels and paintwork without worrying that it could strip away the wax coating.
Being pH balanced, this formula is sure to provide you with a gentle and scratch-free washing experience. In addition, it is formulated with premium polymers along with active surfactants for ease of lifting away dirt. You will also be pleased to know that the shampoo is super concentrated. So, you can expect tons of foaming wash suds by just mixing a 5-gallon bucket of water with one ounce of the soap.
Pros
Safe for use on any color, glossy and shiny paint finish
Won't stain or spot sunlight
Gentle on wax coatings and sealants
Provides a long-lasting shine on all car finishes
Works with foam gun/cannon and pressure washer
Cons
Requires a lot of water to rinse it off completely
Does not create thick foamy suds like most of its competitors
10. Chemical Guys CWS_110_16 Foam Car Wash Soap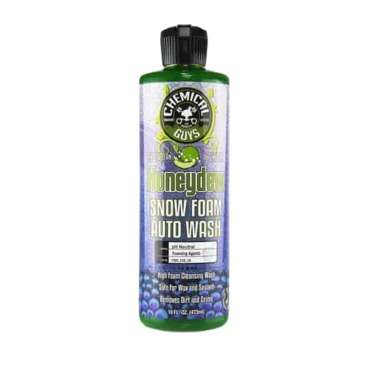 Highlighted Features
Made with pH balanced polymers that are safe for all vehicle surfaces
Snow foam cuts through dirt and grime for deep cleaning
Hyper-concentrated to ensure it lasts for many washes
Works with a foam gun, foam cannon, and two-bucket wash
One capful dilutes with 5 gallons of water for superior cleaning results
Need an eco friendly car wash soap that will clean your car just like a professional car cleaning service? You can try out this highly concentrated formula that dilutes to one capful with five gallons of water.
Even better, this soap is pH neutral. Therefore, you can use it on any color paintwork because it's gentle on wax coatings. You can also safely use it for regular weekly washes.
What's more? The formula features advanced foaming technology, thereby providing you with generous amounts of suds. As such, you can expect to have an easy time cleaning grime and other contaminants off your car.
Pros
Produces lots of thick and creamy like suds
Safe for regular weekly car washes
Extra slick for a scratch-free wash
Has a natural and fresh smell
pH neutral hence won't harm your car's wax coating
Cons
A little pricey for the amount of soap you get
Does not produce lots of snow foam when using the 2-bucket method
Is There Any Biodegradable Car Wash Soap
Yes. There are several brands of biodegradable car wash soaps that are available in the market today. These are not just a marketing gimmick or a way for companies to make more money, but an actual change in the way they make their products. A lot of people have been asking what makes these soaps different from regular soaps and why should I use them? The reason is simple: these soaps do not pollute our water supply, our landfills, or even our cars!
They are made using all natural ingredients that allow us to protect our environment while still giving us an amazing clean on our cars. There are several companies that offer these types of soaps including Mothers Earth Car Care, Meguiar's and Chemical Guys just to name a few.
How Does Biodegradable Car Wash Soap Work
A biodegradable or natural car wash soap works by gently lifting off dirt and grime from the paint of your car. It does this without peeling off wax or polish layers, thereby giving your car a beautiful streak-free finish.
Unlike traditional car wash detergents, this type of soap is gentler on your vehicle's paint. This is because it is made from non-toxic, biodegradable chemicals and natural compounds such as plant extracts and surfactants.
So, what happens after using the soap and releasing it to the land, 90% of it is broken down by bacteria. The broken-down compounds are then absorbed by living organisms. This, therefore, makes it safe for the environment.
You Can Also Read: Best Car Wash Brush With Soap Dispenser Reviews in 2022
Advantages of Using Biodegradable Carwash Soap
Compared to using traditional car wash shampoos and detergents, biodegradable car wash soaps are a better option, and here is why
1. Safe on all vehicle surfaces
Because these soaps don't contain any harsh chemicals, you can safely use them to clean all surfaces of your car. This includes windows, rubber, plastics, paint, and vinyl surfaces. And you don't have to worry that the soap could strip off your car wax, sealants, or coatings.
2. More effective
Biodegradable car wash detergents are made of several natural cleansers such as citrus or cutting-edge formulations. As such, you can use them to pull off even the toughest dirt, grease, and road grime from your vehicle. In addition, the soap can even penetrate deep into the crevices of your car to clean even the hard-to-reach dirt.
3. Safe for the environment
All biodegradable car wash detergents contain non-toxic compounds that should degrade over time before being absorbed by living organisms. So, you can expect less pollution. This, therefore, makes the soap safe for the environment.
4. Enhances your vehicle's paintwork
For most biodegradable car wash soaps, they are formulated with all-natural ingredients that enhance the shine on your car. Simply put, they give your car a glossy shine similar to a waxed look.
5. Highly concentrated
These soaps usually come super concentrated. This means that to dilute just a capful of the soap, you will have to use a lot of water. Consequently, this allows you to use the detergent for several washes before having to buy another one.
How Can I Wash My Car Without Hurting The Environment
There are many ways to wash your car without hurting the environment. The best way to start is by using a bucket and sponge instead of a hose. This will cut down on water usage and prevent runoff.
Next, use a biodegradable soap or detergent. This will help remove dirt from your car without leaving behind harmful chemicals that pollute our waterways. You can also choose all-natural cleaners that are made from ingredients like soybean oil, coconut oil, and citrus extracts. These products are naturally derived and safe for both you and the environment.
When it comes time to dry your vehicle, use an old towel or chamois instead of a leaf blower or electric dryer. If possible, air dry your vehicle in direct sunlight so the sun can evaporate any remaining water droplets on its surface.
Things To Consider When Buying Biodegradable Car Wash Soap
Biodegradable car wash shampoos are not formulated equally. So, in this guide, we will discuss some of the things you must consider when buying the best biodegradable car wash soap. 
Concentration
Most eco-friendly car wash detergents you will find on the market are concentrated. However, some are more concentrated than others.
A car wash soap that is super concentrated means that you will use more water but less soap in the mixture. This means that your bottle will last for many washes, thereby allowing you to save on money. So, you should aim for a soap with the most minimum soap-to-water ratio.
Ingredients formulation
Generally, we recommend choosing a soap made from either mild or active surfactants. The presence of these compounds will ensure your soap mixes well into the water for ease of removing dirt from the surface.
You should also consider if the soap is both sulfate and phosphate-free. Because these two chemicals could strip your car of its protective wax and sealants.
Foaming action
The best soap to wash car should produce thick and foamy suds. You see, foam usually does an excellent job of lifting up even the toughest dirt and grime from your car's surface.
In addition, a soap that creates a large amount of suds helps prevent scratches on your paint. More so, it reduces the amount of time you would spend scrubbing your car.
PH level
Another thing to consider when buying a shampoo for car is its pH level. The level of pH is usually how alkaline or acidic your soap is.
However, if your soap is too acidic or has low alkalinity levels it could strip away any protective coatings on your car. Therefore, you should choose a soap that is pH balanced or simply pH neutral. This way, you can safely use it on different surfaces of your car.
Scent
If you're sensitive or allergic to some odors, you should consider getting a fragrance-free soap. Or simply, one with a subtle smell.
This is because biodegradable car wash soaps are formulated with different chemicals. As such, they tend to have different smells. You will find that some products even have fragrances.
All-purpose cleaner vs. Dedicated car-wash product
Lastly, you must decide whether to buy a soap that is dedicated to washing your car or an all-purpose cleaner. Both options are excellent, so the best one depends on your preference.
When it comes to an all purpose cleaner, it means that you can use the soap to clean almost everything besides your car. On the other hand, you can only use a dedicated car-wash product to clean your vehicle. The good thing is that this type of soap cleans all types of car surfaces.
What Equipment Do You Need to Clean Your Car?
When washing your car with a biodegradable car wash soap, the accessories you choose can make a lot of difference. Some of the must-have tools include:
Wash mitts and pads
The mitts make it easier to clean your car because you can wear them and simply rub your hands across the surface of your automobile. Alternatively, you could use microfiber cloths, pads, or brushes for the wheels.
2 or 3 Buckets
You should have at least two buckets. One for washing and the other one for rinsing. A third bucket might also come in handy for cleaning the wheels.
Foam gun or foam cannon
Most non-toxic car wash soaps are designed to work with a foam cannon or foam gun. The foam gun helps you foam down your car without the use of a pressure washer. For the foam cannon, it allows you to create a foaming soap by attaching it to your pressure washer.
Garden hose
You will need this tool for rinsing off the car since it can shoot water at decent pressure.
Grit guard
This is a type of grill designed to trap grit every time you rinse your wash mitts. It is usually placed a few inches from the bottom of your water bucket to ensure you don't reapply dirt to your car.
Microfiber drying towel
This will help minimize the time it takes for your car to dry after the wash. Compared to a regular towel, it absorbs more water, thereby reducing wring-outs.
Pressure washer
This is not a must-have accessory but if you plan to use a foam cannon, you need one. You just attach the foam cannon to your pressure washer for ease of applying the soap.
Frequently Asked Questions (FAQs)
Have some questions about the best soap for washing cars? Below you can find answers to some of the commonly asked queries.
Is car wash soap bad for the environment?
Yes. Non-biodegradable car wash detergents contain harsh chemicals like sulfates and phosphates. The phosphates can result in excess growth of algae which can degrade water quality. Even worse, as the algae decays, it tends to use up oxygen in the water which the fish need to survive.  
How can I make my car wash eco-friendly?
You start by investing in a high-quality natural car wash soap. Another thing you could do is take your vehicle to a commercial car wash. You should also use a water spray gun and dump the dirty water in the toilet rather than in the streets.
Is Simple Green car wash biodegradable?
Yes. It is advertised as a non-toxic, environmentally friendly, and biodegradable cleaner. Therefore, it will gently clean even the toughest automotive dirt, bug, and spot stains, grease, and grime from your car. And it does this without dulling or stripping away the wax coating.
Can you use biodegradable car wash soap to clean the interior?
Yes, you can. However, not every biodegradable car wash soap is best suited for cleaning your car's interior. Most products are formulated for washing only the exterior surfaces of your car. So, you must find an all-purpose cleaner designed to clean the upholstery, carpets, and dashboard of your car.
Is it worth using biodegradable car wash soap?
Yes, because first, it is safe for the environment since its ingredients tend to break down easily. Second, this soap will not strip off your car's protective coatings and cleans without scratching your vehicle's paint. Also, it comes highly concentrated so you don't have to use too much of it.
Conclusion
Besides being safe for the environment, a biodegradable car wash detergent is more effective than a regular one. Some products can even help improve the shine on your car.
However, because there are many biodegradable car soaps out there, you must consider things like the pH level of the soap before buying one. In addition, you should consider its foaming abilities, scent, and even concentration.
With the above in mind, our pick for the best biodegradable car wash soap is the Chemical Guys CWS_301 Car Wash Soap. We like this product because it is highly concentrated, has gloss-enhancing agents, and creates thick forming suds. But if you're interested in an all-purpose product, we recommend Charlie's Professional Biodegradable All-Purpose Cleaner.
Recommended Posts
Best Car Wash Soap For Road Salt In 2022